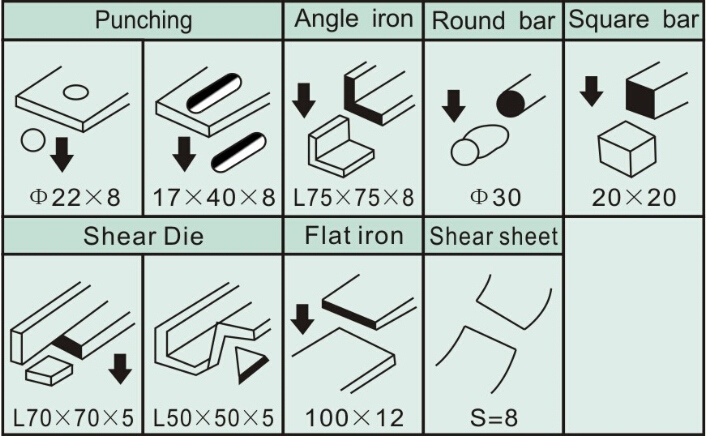 QA32-8 Combined metal punching and shearing machines, are used for punching of angle steel, flat iron, C channel iron, and shearing of round bar, square bar, angle steel, flat iron, C channel iron, die cut and so on, have the characteristics of novel design, beautiful shape, compact structure, reliable performance, simple operation and convenient maintenance, quite suitable for machinery manufacturing, construction and hydro-power projects.
We went all over the world participate in the exhibitions.
And We have customer cases in Malaysia, New Zealand, Dubai, Saudi Arabia, India etc,more than 56 countries!
Characteristics:
1.Adopt high quality copper wire motor, enhanced machine rack, compact structure, solid and reliable.
2.Good lubricating property.
3.Less functional loss compared wtih same type cutting machine, load power can be largely reduced.
Technical specifications:
Max. Punching force: 360KN(37ton).
Cutter stoke length: 27mm(1 3/50").
Cutting frequency: 30 times/min.
Motor power: 2.2KW, 380V, 50HZ.
Size: 900x500x1100mm Weight: 500kg.